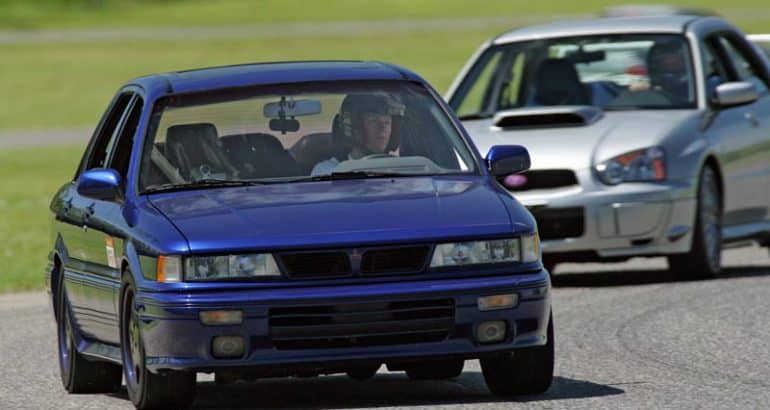 At Shift Brokers one of the most common questions we get is what happens if I have an accident while at the a track day or HPDE (High Performance Driving Event). This situation can be interesting, because a lot of the details matter. There are also a lot of pitfalls, both for well meaning enthusiasts and those who try to pass off a costly mistake on their insurance.
Am I Covered If I Wreck At The Track?
The simple answer to this is no. Most insurance policies from most carriers will not cover an incident on track. Tracks, track days, HPDEs, motorsports events, drag racing, offroad driving, autocross or any kind timed events are usually explicitly excluded from your insurance coverage. This will likely include both comprehensive, in the event you do damage to your own car, as well as liability insurance if you hit someone. The other drivers insurance also likely excludes you, so if you get hit by someone else you likely will have no recourse. Uninsured motorist and other policies are also generally excluded.
However, there are some notable exceptions. First, as we'll detail below, there are specialty policies you can get to cover you on the track. In most cases these are NOT going to be included with your regular insurance and generally they are not offered by traditional carriers.
The second is if you have an incident at a track event, say in a parking lot, but not on track, you may be covered. However, expect your insurance company to want more details than usual, they still may have a reason to deny your coverage if for example you are in a high risk place like the paddock. If you are participating in the event, but then have an accident in the parking lot, an insurance carry may still be within their rights to inquire about disqualifying the claim.
Being Truthful About Track Incidents
It's also, unfortunately, a place where a lot of people try to work around the system when something happens. When an incident occurs on track, too often drivers will attempt to pass off their mistake as a legitimate incident. Doing it may seem benign enough. After all, you may tell yourself you pay a lot for insurance and feel it should be covered.
However, it's important to note that this is effectively insurance fraud. Not only is it a reason to deny your claim, you could also be dropped from your insurance carrier. You could even be charged with a crime. Insurance companies have been known to check registration lists, social media and other places to see if you have been active in a track event. This could compel additional questions, even if you claim the incident occurred no where near the event.
The reality is, if you are better off paying a little more for extra coverage, if available, to cover an incident at a track event, than attempting to pass off an accident on track by claiming it happened somewhere else. The reality is there are policies that may be available to cover these kind of occurrences.
How To Ensure You Are Covered When On Track
The good news is there are a variety of policies available that can cover you for incidents on track and during track days. These specialty policies, which are usually considered riders or add ons to your regular car insurance, can cover enthusiast centric track events. They often are even called track day insurance. You don't need to get your specialty policy from the same company you get your regular insurance from. In fact, chances are your mainstream insurance company doesn't even offer these policies or add-ons.
We do want to note there are a few things to be aware of when shopping for track day insurance:
Track day insurance typically covers specific date(s). Most track day insurance you'll find is for a single day or event (1-3 days) when you are doing a track day or HPDE. More companies are starting to offer the option of multi-day weekends, and even annual coverage. What's important to note is if your coverage isn't enforce for a date you have an incident, you won't be covered. So be sure to check, and if you go to the track regularly, look into multi event and/or annual coverages that may save you some money.
Track day insurance may not cover all kinds of events. For example, timed events or side by side racing may not be covered. Most track day insurance policies are focused on enthusiast track events that are controlled and instructional. Don't just assume your event is covered, particularly if it's not a typical HPDE style event.
If you are a member of motorsports park or driving club, mention this specifically to your agent or broker and check your policy. You want to be sure your coverage won't be excluded.
Track damage and other liability coverage is often not included. At most track events and private driving clubs, if your on track incident also damages the track or facilities equipment you are responsible for that damage. Your track day insurance may or may not cover damage to the facility or other cars, in fact most won't. Be sure you know what is covered in your policy and understand your financial risks if it does not.
Track day insurance likely does not cover towing and other types of incidents that may occur getting to and from the track. While your daily driver will generally be covered by your regular car insurance, non road legal track cars may only be covered on track or as defined by the track day policy. Be sure to ask about race car or towing coverages as well. They are often inexpensive and cover incidents that are also common places of damage or loss.
Medical is another area where not all track day insurance policies are equal. Be sure to check the coverage offered, and whether it may cover passengers or others who may have a claim in the event of an on track incident.
Track day insurance is generally written as stated value policy. What does that mean? It means that you and the insurance company share the burden of proving valuation of the vehicle – which can impact everything from payouts to how much repairs need to cost before totaling the vehicle. It also means, when declared up front it can include items like modifications, which are generally excluded from most traditional insurance policies. Still, stated value is not a guaranteed or pre-agreed value. We discuss the difference between cash value (typical insurance valuation), stated value and agreed value if you want to learn more.
Shift Brokers Can Help You Navigate
Shift Brokers is car insurance for car enthusiasts. We can help you understand the how different carriers will value your specialty car. In addition, we can help you select from insurance companies that will get you the kind of service and coverage you need. And because we are car enthusiasts and specialize in policies for car enthusiasts, we can help you navigate the unique needs and situations only car enthusiasts find themselves in. The best part is, because we are brokers, we represent you, not the insurance companies. There is never any obligation to work with us.
Contact Me About A Quote For Track Day Insurance
Learn More About Track Day Insurance
Want to know more about how Shift Brokers can help you with with track day insurance?
Informational Purposes Only
As with all of our blog posts with tips and suggestions about car insurance for enthusiasts, these are intended as general information. The specifics of your policy and carrier may differ. The information in this blog post is not intended to be formal insurance advice. However, if you'd like to talk to a licensed agent about your specific needs or questions, get a quote. Always read your existing and any new policies carefully.