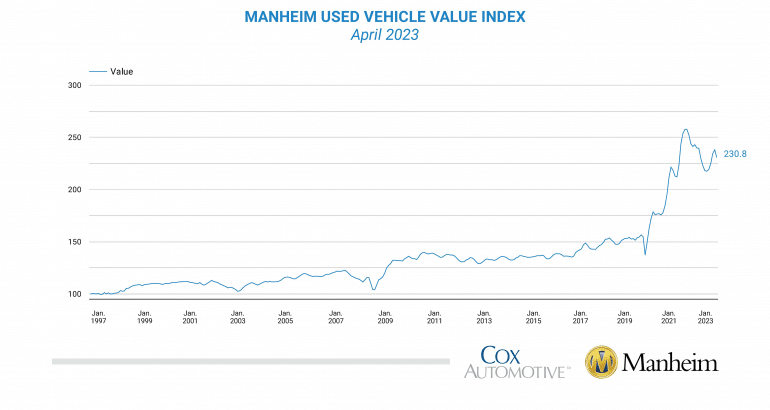 At Shift Brokers we talk a lot about valuation. Not only is the value of enthusiast vehicles important, it's a significant factor in ensuring you get the right coverage. In fact, other than how the car is used, valuation is likely the next largest piece of what makes insurance for car people different than your typical policy. And as we often say, you don't need to have a classic car or a collectors vehicle to benefit from ensuring you have the right valuation associated with your insurance policy.
If you are not on an agreed value policy, or even if you are but have no revisited the valuation in a year or more, you may not be covered for the true replacement cost of the vehicle anymore. While enthusiast car valuation is not tied 1:1 with larger trends in used car values, there is always an impact on valuation based on how the larger market moves.
Used Car Valuation Trends April 2023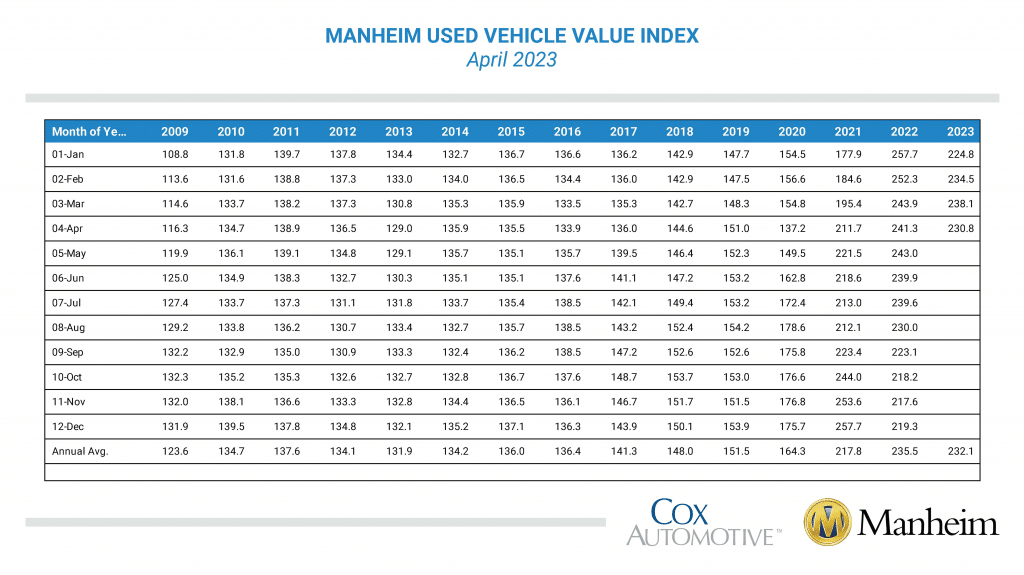 Chart is courtesy of Manheim/Cox Automotive.
After a drop in the early part of 2023, driven largely by rising interest rates, macroeconomic uncertainty and a cooling economy, April saw further declines. This reverses March's overall valuation increase. This type of volatility is not entirely unexpected and seems to be mimicking the larger economic trends: rising interest rates and uncertainty mixed with better than expected jobs reports.
"While values increased 8.6% through the first quarter from December, the market has reversed course in April, with our monthly figures showing a month-over-month decline for the first time in 2023,

Chris Frey, senior manager of Economic and Industry Insights for Cox Automotive
One interesting note buried in the Cox report was that declines accelerated towards the end of April. While its still too early to tell how sustained these declines will be, there certainly seems to be some suggestion that this may be beginning of a sustained cooling period. Given the nearly 100% increase in value, this will be welcome news to just about everyone but those who need to sell.
What Does Shift Brokers See Behind The Used Car Trends
Some highlights we've subjectively noticed in the enthusiasts used car market:
The oldest cars (10-20 years old) that have not yet heat peak rarity are leading in potential valuation declines
Very high demand cars, but new and old, are retaining their scarcity but are cooling
MSRP markups and long wait lists remain due to limited investment by car manufacturers to resolve this issues
"Need to sell" sellers are adding used car inventory and generating the most negative pressure on the market, but these are rarely high demand vehicles
As we noted last month, what this means for car enthusiasts is that peak pricing and dealer markups are easing, but there is still significant pricing pressure on highly desirable cars. Dealers are largely still selling slots, often with markups, on the most sought after cars.
Secondary level used cars (4+ year old cars) are generally holding their value, as are collectible and classic cars. Values are not accelerating in this year like they did for much of 2022, but don't expect to find a lot of great deals yet.
Mid-age cars (10-20 years old) where the cost of maintenance and availability reduce desirability are fairing the worst. If you are a buyer, you can start to see deals appearing in this segment.
We are seeing an increase in situations where financial, relocation and macroeconomic pressures are forcing more owners of desirable, but not highly sought after cars, to sell. Still, much like the housing market, there is such as a huge backlog of buyers that even with new supply and some buyers dropping out of the market, sellers still maintain a fair bit of leverage.
Where We Think Trends Are Headed
In our March trends review we noted that we expected to see prices stall, but remain high for highly desirable cars. While in April the decline was higher than we expected, our overall stance has not changed significantly. We expect to see very desirable cars maintain much of their value, while traditional used cars and those old enough to see limited collectability to lead any declines.
We also continue to note many of the largest car companies are investing heavily in electric car production, which means highly desirable internal combustion enthusiast cars may have sustained production backlogs. Recently pushes by some states and the federal government to accelerate the push to EVs may create additional valuation increases, bubbles and rarity for popular internal combustion engine enthusiast cars.
Impact To You If You Are Not Buying Or Selling
If you are not in the market to buy or sell your car, the impact is likely limited to accessing any agreed value policies that may be coming up for renewal. In addition, replacement values in the event of a loss are also going to be impacted by these trends. If the value of your vehicle has increased, we suggest to address this at each renewal. If it's accelerating more than 10%, we recommend addressing it sooner.
The overall downward trend is good news for replacement cost, but as we noted above and mirroring the larger economy, even as the larger trend is down there are some specific areas that are not declining and even still appreciating. If you are interested in learning more about what your car is worth, particularly if it's an enthusiast car or unique, check out our guide to car valuation.
Also, you don't need to have a highly collectible car to consider its value. Anytime the agreed value, for agreed value policies, or the book value, or actual cash value policies is less than what it would cost you to replace the car, regardless of reason, it's worth revisiting your policies.
Shift Brokers Can Help You Navigate
Shift Brokers is car insurance for car enthusiasts. We can help you understand the how different carriers will value your specialty car. In addition, we can help you select from insurance companies that will get you the kind of service and coverage you need. And because we are car enthusiasts and specialize in policies for car enthusiasts, we can help you navigate the unique needs and situations only car enthusiasts find themselves in. The best part is, because we are brokers, we represent you, not the insurance companies. There is never any obligation to work with us.
Contact Me About My Insurance Needs Or Questions
Informational Purposes Only
As with all of our blog posts with tips and suggestions about car insurance for enthusiasts, these are intended as general information. The specifics of your policy and carrier may differ. The information in this blog post is not intended to be formal insurance advice. However, if you'd like to talk to a licensed agent about your specific needs or questions, get a quote. Always